Nessus is one of the most popular and capable vulnerability scanners, particularly for UNIX systems. It was initially free and open source, but they closed the source code in 2005 and removed the free "Registered Feed" version in 2008. It now costs $1,200 per year, which still beats many of its competitors. A free "Home Feed" is also available, though it is limited and only licensed for home network use.

Nessus is constantly updated, with more than 46,000 plugins. Key features include remote and local (authenticated) security checks, a client/server architecture with a web-based interface, and an embedded scripting language for writing your own plugins or understanding the existing ones. The open-source version of Nessus was forked by a group of users who still develop it under the OpenVAS name. For downloads and more information, visit the Nessus homepage.
| | | |
| --- | --- | --- |
| ★★★★★ | | 38% |
| ★★★★ | | 12% |
| ★★★ | | 0% |
| ★★ | | 38% |
| ★ | | 12% |
Screenshot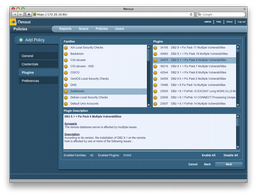 Comments
Your comment
Along with your rating, you can use the comment form to post a review, tutorial, tips and tricks, or anything else others will find useful. If you develop this software (or work for the company), please don't rate it. You may leave a clarifying comment as long as you state your affiliation and don't specify a star rating (just leave it as "No rating").