John the Ripper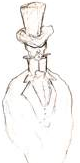 John the Ripper is a fast password cracker for UNIX/Linux and Mac OS X.. Its primary purpose is to detect weak Unix passwords, though it supports hashes for many other platforms as well. There is an official free version, a community-enhanced version (with many contributed patches but not as much quality assurance), and an inexpensive pro version. You will probably want to start with some wordlists, which you can find here, here, or here. For downloads and more information, visit the John the Ripper homepage.
Popularity

#10,

unchanged

Latest release

1.8.0
May 30, 2013 (10 years, 6 months ago)

Links

Rating

★★★★★ (3)

★★★★★

100%

★★★★

0%

★★★

0%

★★

0%

★

0%
Outdated/incomplete?
Comments
★★★★★

Aug. 15, 2019 Xie_BR

Well,this might have been the best cracker that I've never seen!

no rating

May 11, 2017 Bobby

Trying to learn hacking which can be used in a positive way that is ethical hacking when checked the url of the youtube videos they were removed.

no rating

Dec. 23, 2014 Chris

My best md5 cracker tool, fast and love in it oldtimmer.

★★★★★

Aug. 30, 2014 Eduardo

It's a great tool! I love it! It's very useful for brute force attacks, dictionary attacks and other things C:

no rating

Oct. 24, 2012 Beastmode

John the Ripper is a great tool for any LM Hash that has a password that is 8 characters or less. There is a great demonstration here:

★★★★★

March 25, 2012 novak

John is the standard password cracker. It is powerful, flexible, and its heuristic method of looking for passwords means that it finds many passwords even that slip past wordlists.

no rating

Feb. 13, 2012 sanal

I wonder what's the problem I'll be happy to work programs are interested
Comments disabled