This network intrusion detection and prevention system excels at traffic analysis and packet logging on IP networks. Through protocol analysis, content searching, and various pre-processors, Snort detects thousands of worms, vulnerability exploit attempts, port scans, and other suspicious behavior. Snort uses a flexible rule-based language to describe traffic that it should collect or pass, and a modular detection engine. Also check out the free Basic Analysis and Security Engine (BASE), a web interface for analyzing Snort alerts.

While Snort itself is free and open source, parent company SourceFire offers their VRT-certified rules for $499 per sensor per year and a complementary product line of software and appliances with more enterprise-level features. Sourcefire also offers a free 30-day delayed feed. For downloads and more information, visit the Snort homepage.
| | | |
| --- | --- | --- |
| ★★★★★ | | 67% |
| ★★★★ | | 0% |
| ★★★ | | 0% |
| ★★ | | 0% |
| ★ | | 33% |
Screenshot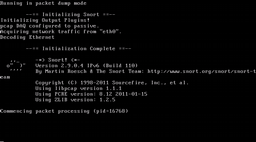 Comments
Your comment
Along with your rating, you can use the comment form to post a review, tutorial, tips and tricks, or anything else others will find useful. If you develop this software (or work for the company), please don't rate it. You may leave a clarifying comment as long as you state your affiliation and don't specify a star rating (just leave it as "No rating").