The authors of TrueCrypt abandoned the project in May 2014. While many still use the software, there are several forks and alternatives that are striving to take its lofty place.
TrueCrypt is an excellent open source disk encryption system for Windows, Mac, and Linux systems. Users can encrypt entire filesystems, which are then on-the-fly encrypted/decrypted as needed without user intervention beyond initially entering their passphrase. A clever hidden volume feature allows you to hide a second layer of particularly sensitive content with plausible deniability about whether it even exists. Then if you are forced to give up your passphrase, you give them the first-level secret. That only allows them access to the innocuous material you have there, without proving that a second level key even exists. For downloads and more information, visit the TrueCrypt homepage.
| | | |
| --- | --- | --- |
| ★★★★★ | | 50% |
| ★★★★ | | 50% |
| ★★★ | | 0% |
| ★★ | | 0% |
| ★ | | 0% |
Screenshot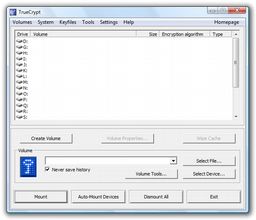 Comments
Your comment
Along with your rating, you can use the comment form to post a review, tutorial, tips and tricks, or anything else others will find useful. If you develop this software (or work for the company), please don't rate it. You may leave a clarifying comment as long as you state your affiliation and don't specify a star rating (just leave it as "No rating").